"NAKHODKA MARITIME SERVICES" LLC
ООО "НАХОДКА МЭРИТАЙМ СЕРВИСЕС"
Shipping agency service at Nakhodka, Vostochny, Kozmino, Vladivostok, Slavyanka, Zarubino Ports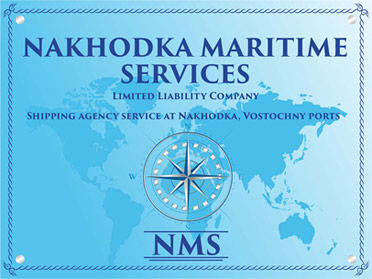 "Nakhodka Maritime Services" established in 2014 as an independent shipping agency company, and serves only Vostochny & Nakhodka local ports.

Nowadays, our enthusiastic team with energetic ideas & shipping passion keep excellent attandance in all ports of Russian Far East with continuous growth & development with further expansion of such energetic activity in other shipping segments & ports.
During the past period, NMS has gained a reputation as a reliable partner with professional view to each aspects of agency business with careful attitude towards counterparts.
With our professional team, we keep performing outstanding service in regards on your vessel"s stay, whatever port of Russian Far East it is.

Our achievements:



* In 2018 "Nakhodka Maritime Services" became a «BIMCO» & «Association of Saint-Petersburg Shipping Agencies» member:


* In 2018 "Nakhodka Maritime Services" implemented an ISO 9001:2015 Quality Management Requirements:

* Since 2016 "Nakhodka Maritime Services" are holding a position of a leading provider of AIS data — marinetraffic.com



* In 2015 the RIC of "Nakhodka Maritime Services" was a guest-speaker in International conference "Argus Far East Bunkering 2015" which held in October 2015 at Vladivostok (Russia) featuring «Bunker replenishment of transit-going vessels and its significance of developement of ports of South Primorye».


* Since 2014 "Nakhodka Maritime Services" are holding aposition of a leading provider of AIS data - Vesseltracker.com


[last updated 09.01.2019]