About us
"NAKHODKA MARITIME SERVICES" LLC
ООО "НАХОДКА МЭРИТАЙМ СЕРВИСЕС"
Shipping agency service at Nakhodka, Vostochny, Kozmino, Vladivostok, Slavyanka Ports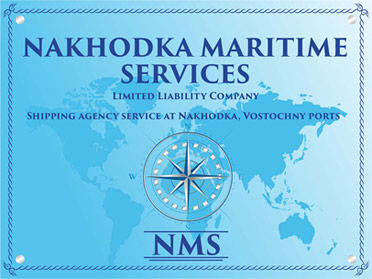 "NMS" established in 2014 with head office at Nakhodka city and nowadays our enthusiastic team with energetic ideas & shipping passion continue the development & company growth with further expansion of activity in other shipping segments & ports.
Our company has long-term partnership with local terminals, forwarding companies, bunker suppliers & traders and "NMS" has recommended itself as a reliable partner. As mentioned, "Nakhodka Maritime Services" LLC successfully do the ships agency business in all ports of Primorsky krai of Far East of Russia.
Furthermore, we see huge potential in expansion of our energetic agency activity within other ports of Russian Far East as we believe that our area is certainly an important segment in frames of economic activity & shipping area in logistics chain of Asia-Pacific region.



* "Nakhodka Maritime Services" are holding a branch of a leading provider of global AIS data (shipping traffic, maritime information & research services) - Vesseltracker.com

* "Nakhodka Maritime Services" RIC was a guest-speaker in International conference "Argus Far East Bunkering 2015" which was held in October 2015 at Vladivostok (Russia).